Not Just a Luxury: Five Great Reasons to Give the Gift of Massage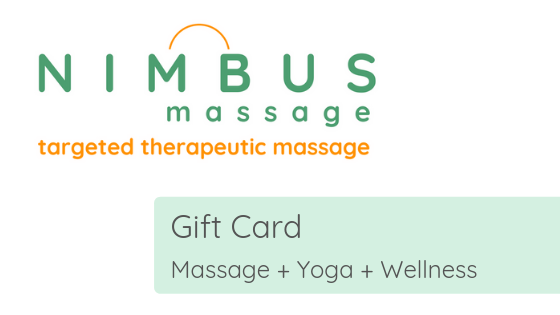 Massage therapy feels so luxurious, but we know some even better reasons to give the gift of massage. We all know someone, ourselves included, who could use a really good dose of self-care. The end of the year is the perfect time to start wellness activities like massage, yoga or meditation to gear up for all that is to come in 2020. Although the clock is winding down and the last-minute holiday gift rush is upon us, there is still time to purchase a meaningful and thoughtful gift!
To make it even sweeter, we are going to give you five reasons why you should give the gift of massage with  a Nimbus Massage gift card. 
Do you know someone who lives with a chronic pain syndrome? Complains about neck and shoulder tension? Suffers from headaches, back pain or other ailments? If so, then a gift card from Nimbus Massage would be the perfect way to help them on the road to manage or even eliminate that pain. The massage staff at Nimbus specializes in applying therapeutic massage techniques to help people manage chronic conditions, especially pain. 
Many paths to wellness
Want to help them nurture themselves a little? Connecting to wellness can come in different forms for different people. At Nimbus Massage we pride ourselves on offering integrative services that help people in more than one way. A Nimbus gift card can be used not only toward massage, but toward any of our services like yoga, meditation classes, or nutritional counseling. Even for self-care items from our retail line. In fact, we offer a gift card for our Back on Track Package for those who want it all! This package incorporates: nutritional counseling, massage, a private yoga class, and a take home self-care gift.
Total Recharge
The holidays signify the end of a whole year. The good, the bad, the ehhh… all of it! Whether your someone special is trying to forget all 365 days; revel in all that they have accomplished; or get set for a big 2020. A Massage Therapy gift card can really help someone recharge whom you have watched evolve over the year. Simply hand them over to us and we'll make sure that we tailor a session for them, to ensure the very best experience. (Or perhaps you need to recharge yourself….)
Couples Massage
If you know (or are part of) a great couple, purchase a gift card for them to use towards a couples massage. Nimbus is one of the few small independent massage studios in Richmond to offer a customized couples massage experience. Since Nimbus does not do choreographed massages, each person gets a session tailored to their own needs and preferences. Because being part of a duo doesn't mean that each person has the same goals for their massage.
Employee Appreciation
Ok, it is the 25th hour (no pun intended). You are struggling to find something for your team, who have done really great work for you this year. We can come to your location and treat the whole team with chair massage, yoga, or our group meditation & music class. Or, purchase a package of gift cards to give individually. Then they can customize their own unique experience which we promise they will enjoy. 
That's it!
Ok, so we gave you five VERY valid and awesome reasons to choose a Nimbus Massage Therapy gift card for someone special this holiday season. We look forward to tailoring a session to meet the goals of you or your giftee. To help them BE WELL in the new year.