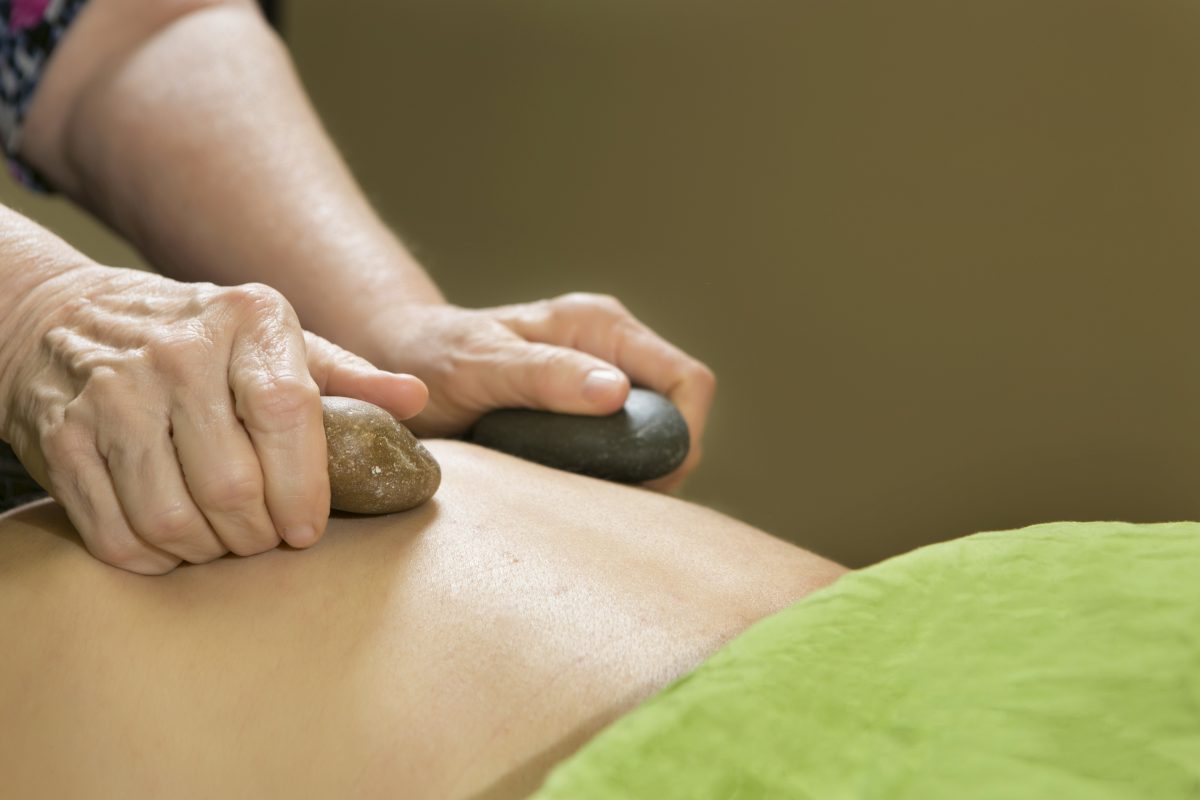 Rock on, turn up the heat, get stoned…
Aside from being a bad pun writer's dream, hot stone massage enhances relaxation and feels amazing. Especially welcome during the cool months, adding a touch of warmth to a relaxation massage helps fight the winter blahs as well as the increased muscle tension felt from the cold. If winter's not your thing, you can come in from the cold for an hour and a half and warm your bones with a hot stone session. Hot stones can also give some extra oomph to a massage designed for pain relief.
Typically, a "Hot Stone Massage" means a 90 minute massage with a main goal of stress relief and relaxation during which the therapist incorporates smooth heated stones into the session. The therapist will use the stones in two ways:
Stone Placement- Placing stones in strategic areas to warm the muscles before or after working on them. Akin to applying a heat pack, leaving the warmed stones in place allows the heat to penetrate into the muscle.
Massage with Stones- Using stones as an extension of the therapist's hands. Massaging the muscles with the stones allows the heat to fully cover the muscles and help melt away knots.
In addition to using the stones the therapist will also use their hands, just like in a traditional massage, in order to do more focused work on specific muscles. A hot stone massage is designed to leave you feeling relaxed and warm both mentally and physically.
We innately want to apply heat to aching muscles. It feels good. We crave comforting touch when we have stress. It calms us. So combining heat with therapeutic touch gives us a unique opportunity for healing body and mind. Beyond feeling good, heat therapy encourages circulation in an area (you can see this when the skin turns pink) and coaxes muscles to relax and lengthen. It basically does the same things that massage strives to do, so the two combined are a power combo.
For those seeking a massage oriented toward pain relief and injury recovery, the therapist can incorporate hot stones into the session in a less generalized and more focused way to achieve these goals. The therapist can use them to apply heat with more targeted techniques to stubborn knots, tight muscles, and taut tissue. Just like in a relaxation massage, the moist heat delivered by the stones can enhance the work of the therapist leading to less tension, less pain, and more flexibility.
Surprisingly, heat therapy has a dearth of empirical evidence behind it. Like cold therapy, the medical community has employed it for so long and so frequently, that everyone assumed it had been well-studied. The research that exists, however, indicates that heat does seem to relieve pain, relieve muscle tension, and improve flexibility. Moist heat (like hot stones) may be particularly effective.