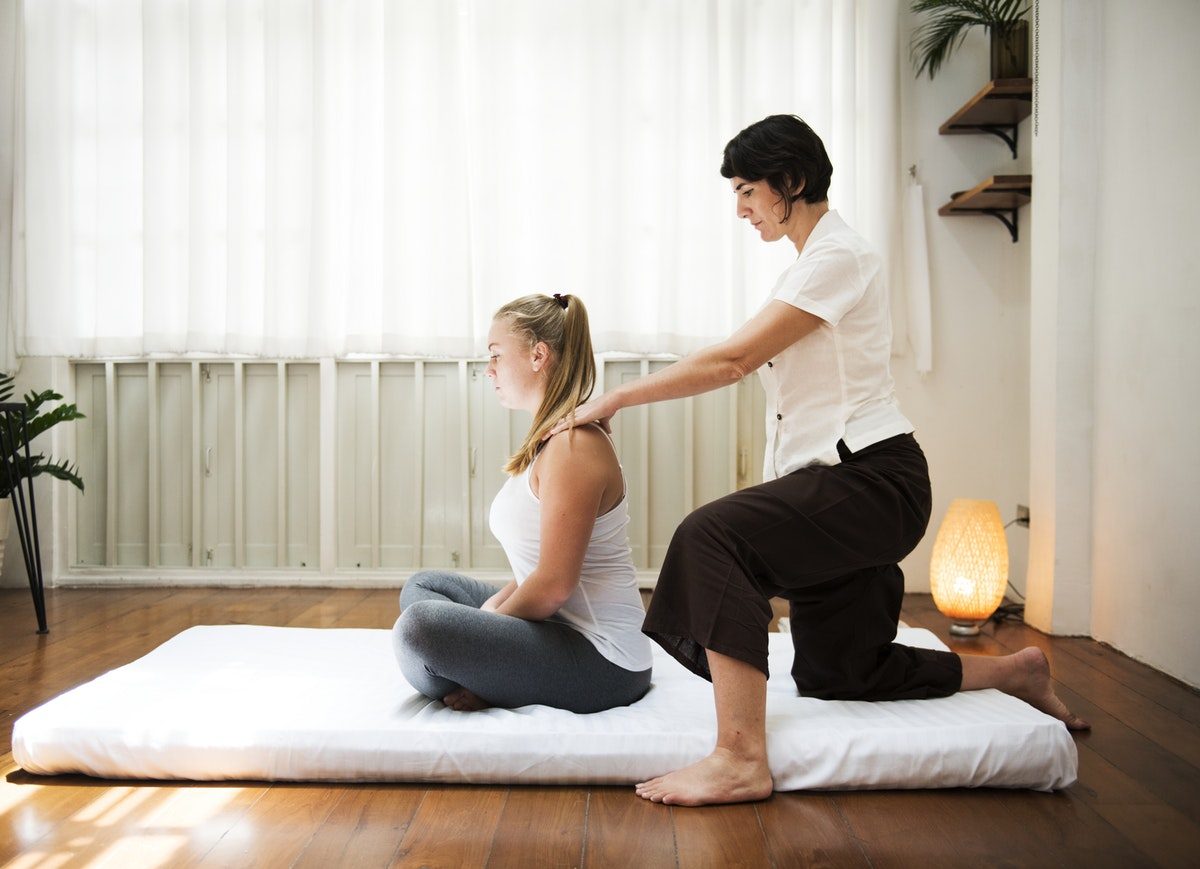 "Get off the table and onto the floor for a Thai Yoga Massage"
Feeling adventuresome or ready to try a little something different as part of your (massage) wellness routine? Get off the table and onto the floor for a Thai Yoga Massage to challenge your flexibility and leave you feeling revitalized.
Often referred to as "having yoga done to you," Thai Yoga Massage, or just Thai Massage, comprises stretching, compressive massage, and meridian-based energy work. It enhances vitality and helps you feel more flexible. Thai Massage is an excellent way to improve your general wellness.
Read on for an interview with James, Nimbus Massage's resident Thai Yoga Massage therapist.
Kristina Page: Tell me a little about Thai Massage.
James Arbuckle: In my experience Thai Massage is both relaxing and invigorating at the same time– which is an interesting paradox. My Thai instructor, who studied in Thailand, called it "yoga for the lazy."
KP: What inspired you to learn Thai?
JA: Several things. Just like massage itself it felt like a natural fit. When I saw books or DVD's on the subject I thought "that's something I want to do." It just seemed like a natural thing. Another reason that it interested me as a male therapist, is the fact that clients don't have to disrobe for a Thai Massage.
KP: What was your favorite thing that you learned in Thai class?
JA: I really like the stretching.
KP: Do you have a favorite stretch?
JA: I like the chest stretch where I press my feet into their back and stretch their arms backwards to stretch the pec muscles. It counteracts the hunching that most of us do. There are also tons of good hip stretches.
KP: Advice for a person coming in for their first Thai session?
JA: Don't wear shorts. Yoga or other loose fitting pants are optimal. During the session (like all massage), try to relax completely so that your body is limp and I do all the work. In some ways Thai massage is more intimate than table massage- I will use my feet, my knees, and my legs along with my hands and arms to support, massage, and stretch you. It involves a lot of contact between therapist and client- but it is an efficient way to mobilize the body and get the energy moving.
KP: Who is a good candidate for Thai?
JA: People who want to improve flexibility. Perhaps as a stepping stone to get into yoga or as a sample to see if yoga would be a good fit for them. Especially for people who want to try it out in private instead of in front of a crowd.
KP: Who shouldn't try Thai?
JA: People who aren't comfortable with the therapist using their feet to do the massage. People who don't like stretching. People that prefer the skin to skin contact of normal massage, especially the gliding style of Swedish massage.
KP: What do you like about Thai?
JA: I really feel like it gives great coverage in working the body, more so than a table massage. A 90-minute Thai session truly covers almost the entire body. Abdomen, sternum, sides. Because it is efficient I can really get to everything. I also like that it keeps your energy up as a therapist as well.
Learning Thai was a turning point for my career. After taking the classes, I started getting a lot more work. Even when I wasn't doing a Thai session, I would incorporate some of the Thai work and people really seemed to respond to it.
KP: Thanks, James, for taking the time to talk with me.
JA: You're welcome! It was my pleasure.